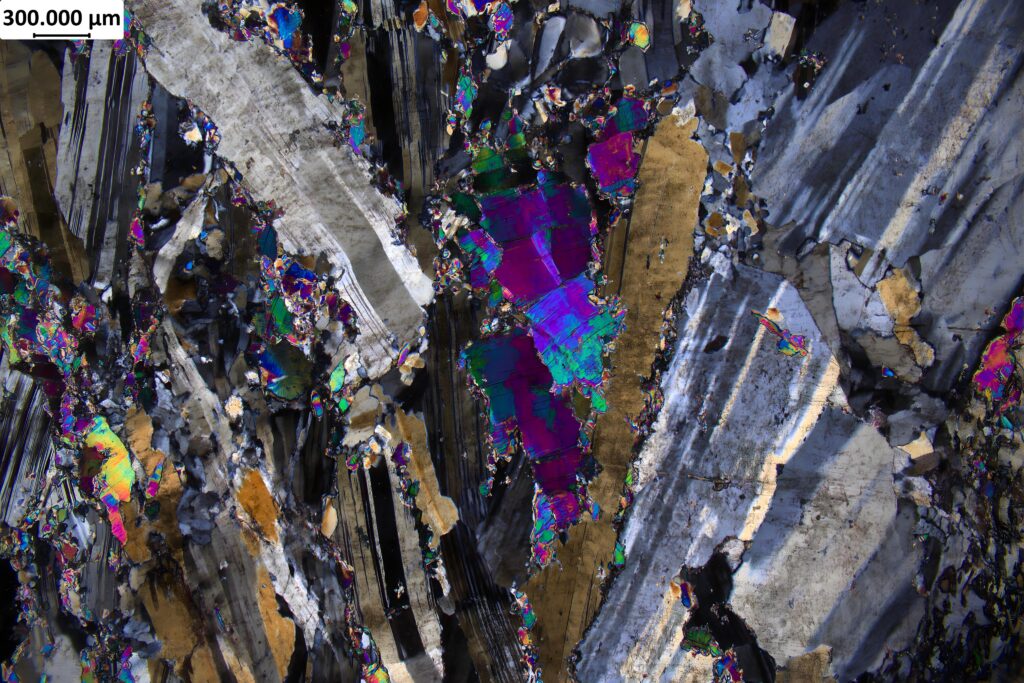 ← Return to Services
Microanalysis Australia have been offering petrographic services to the exploration, mining, construction, and research industry for close to a decade.
Petrography is a branch of geology concerned with the analysis and characterization of rocks and minerals. The macroscopic characteristics of rocks and geological materials visible in outcrop, core, or hand sample can be difficult to describe accurately and fully. Macroscopic observations usually suffice for preliminary classification, however much more information is generally available when observed at the microscopic scale.
Petrographic analysis takes the description and understanding of geological materials further than is possible in hand sample. Both the mineral content and textural properties of samples are described in detail, building from initial field observations to generate a deeper understanding and maximize data recovery from what are typically expensively gained samples. Petrography depends on the production of high-quality thin sections or polished blocks from a representative sample. A thin section is a 0.03 mm slice of material mounted on a glass slide and polished in such a way that minerals transmit or reflect light when observed with a petrographic microscope. Certain production methods also allows for integrated analysis by scanning electron microscopy and elemental mapping, further enhancing data outputs and insight.
Microanalysis Australia work with sample types including: drill core, RC chips, grab samples, coarse and fine aggregates, single crystals, concrete cores and spalls, renders, and mortars.
Microanalysis Australia routinely work with junior exploration companies through to major miners and government bodies with analysis undertaken on greenfields exploration projects through to samples from metallurgical processing of mined ores. As the search for critical metals and particularly battery metals ramps up lithium and graphite have become mainstays of the Microanalysis Australia petrographic portfolio. Petrographic testing remain arguably the most important method for assessing the presence of lithium bearing minerals (e.g, lepidolite and spodumene), and offers the most representative method for accurately characterizing graphite flake size and quality.
Our analyses have featured on the ASX and in public domain precompetitive data reports completed for Geoscience Australia. Clients send us samples from all over the world and we are well placed to support global or Australian petrographic projects with the capacity to send our staff on site for periods of time or for sampling.
 Geological petrography
Not all rock types are the same, a granite from one deposit can be very different from another. Thin section analysis reveals those differences. Recognizing variation that exists beyond what can be seen macroscopically can be vital to understanding ore forming processes, geotechnical problems, or reservoir quality.
Petrographic assessment can be utilized to determine sizes and morphologies of minerals, locate and speciate mineral inclusions, establish ore forming processes, identify vectors for mineralization, recognize porosity and permeability in reservoirs, or simply reclassify rock types.
Petrographic testing can also be used to address downstream processing questions such as mineral liberation or grain size comminution.
Concrete and aggregate petrography
Microscopic issues can cause large scale problems. Petrography is utilised to evaluate concrete for ASR/ACR, DEF, durability, cement type/hydration, presence of geopolymers, cement, cracking/microcracking, chemical attack, fire damage, leaching, scaling/spalling, finishing issues, freeze-thaw damage, and much more.
The technique is used as a screening tool for coarse and fine aggregate to evaluate bulk material for deleterious secondary minerals ASR potential, and/or suitability for use in concrete.  Whether conducting a durability assessment, determining structure life, remediation work, or other types of investigations, having a complete understanding of the material at the microscopic level will pay dividends in understanding its performance at the macro scale.
Standard tests and holistic approaches
Microanalysis Australia offer holistic petrographic investigations of samples tailored to our clients needs. We will commonly combine investigations and analyses including the use of mineralogy by X-Ray diffraction (XRD), scanning electron microscopy (SEM), and elemental characterization and mapping by energy dispersive spectroscopy (EDS). We are also proud to offer a range of standard tests including some NATA accredited tests which are completed by our inhouse petrographer who is recognized as a NATA assessor for those particular tests including:
ASTM C856 – Standard Practice for petrographic examination of hardened concrete.
ASTM C295 – Standard Guide for Petrographic Examination of Aggregates for Concrete
ASTM C1260 – Standard Test Method for Potential Alkali Reactivity of Aggregates (Mortar Bar Method)
AS1141.26 – Secondary Minerals Content in Igneous Rocks (NATA)
AS1141.65 – Alkali Aggregate Reactivity: Qualitative Petrological Screening for Potential ASR (NATA)