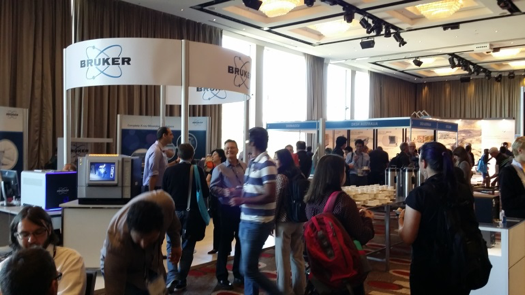 February got off to a flying start with Ian and I heading to Melbourne for the Australian X-ray Analytical Association Workshops, Conference and Exhibitions. Nathan Webster of CSIRO and his team at AXAA did a fantastic job of compiling an interesting mix of speakers covering innovations and developments in x-ray diffraction and x-ray fluorescence techniques and instrumentation.
 Ian Madsen of CSIRO (ret.) and Matthew Rowles of Curtin University kicked off the XRD proceedings with workshops spanning everything from the basics of x-ray diffraction principles to advanced quantitative analysis techniques. There were also informative presentations from Mark Raven of CSIRO on the challenges of quantitative XRD analysis on clay samples as well as a few cool projects working with carbon sequestration by Jessica Hamilton of Monash University and selective gas adsorption with metal organic materials by Josie Auckett of ANSTO to name but a few.
 Dr. Helen Maynard-Casely's (of ANSTO) public lecture gave an interesting insight into how planetary scientists can recreate the high pressure conditions deep within the core of planets and Michael Varcoe-Cocks of the National Gallery of Victoria presented the very dramatic transformations that artwork can undergo when XRF techniques are used to aid in the restoration process. You can watch them both here.
 We enjoyed an entertaining dinner with great food and wine where Greg Moore and Mark Raven were honoured with the Keith Norrish AXAA Award for Excellence in X-ray Fluorescence Analysis and Bob Cheary AXAA Award for Excellence in X-ray Diffraction Analysis respectively. To finish off the week we were treated to a tour of the Australian Synchrotron. The whole conference was a great experience where we were exposed to new tips, tricks and techniques for quantitative XRD analysis many of which we are looking to incorporate into the analyses we offer to further improve the quality of the results we provide. Here's hoping we get invited back to the next AXAA conference!