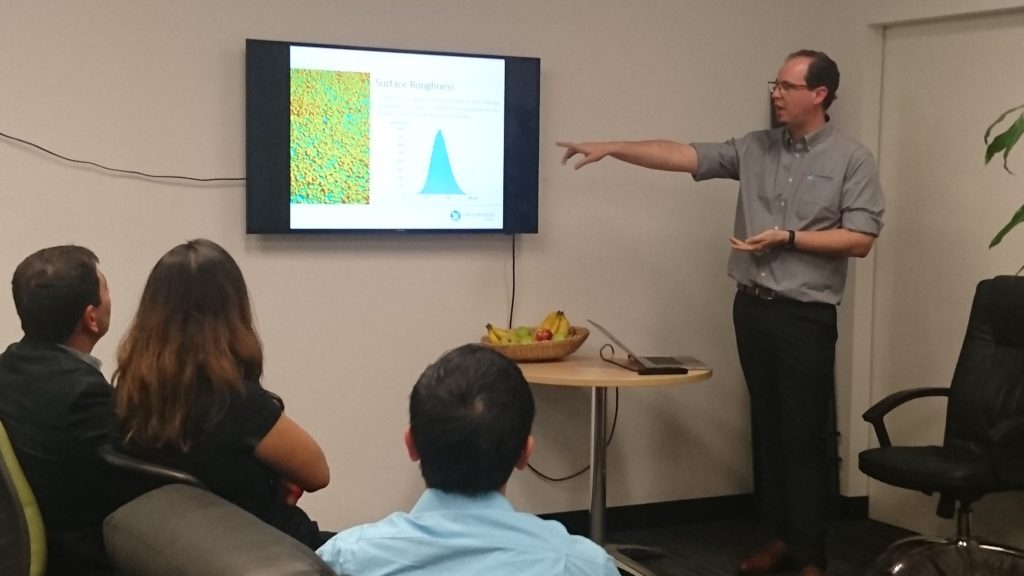 On Wednesday 1st November, Microanalysis held a special information evening for the Australasian Corrosion Association (ACA) and Surface Coating Association Australia (SCAA) professional associations.
Pulling everyone away from the tasty nibbles and drinks, the 12 members had a guided tour of the Laboratory to learn a little of what Microanalysis Australia is up to in the corrosion field as well as in a diverse range of other industry sectors.
Exploring the lab, the delegates learned about spatial elemental  analysis in the two Zeiss SEM/EDS systems, identifying corrosion products versus naturally occuring ferrous phases in the two Philips/PANAlytical XRDs, sizing microbes in the Malvern Mastersizer, understanding settling rates using a Sedigraph, Hiac Royco Particle Counters for contaminat concentration determination in liquids – particularly important for corrosion inhibitor cleanliness and surface corrosion and pitting analysis on the  Solarius Laser Profilometer.

The group learned about the UNDG testing that Curtin University and Microanalysis have been involved in with regards the C1 'Localised Corrosion – Intrusion depth' research. The Solarius Profilometer has been an invaluable tool in terms of scanning large corroded areas to obtain pit depth and profiles.
After the tour,  the group returned to the drinks and food where Nimue Pendragon and Owen Carpenter presented some information about failure analysis using SEM EDS, bulk goods testing by ADG and IMDG, and UNDG C1 corrosion analysis by laser profilometer. Download a copy of the presentation below.
We hope an informative evening was had by all.
PDF Download